They are exquisite!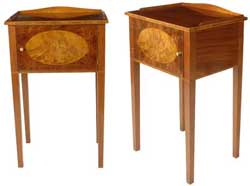 Tanuja and I are completely delighted with [the bedside tables]. The size is perfect – neither too large nor too small, and just the right height for the bed. The workmanship is flawless and the colours and figure of the wood are superb.
The process has been such a pleasure: meeting you, seeing your workshop, discussing the design, seeing the pictures of the work in progress etc.
Nigel Watts and Tanuja Pandit, London, England
Quality of workmanship

An acquaintance was in for lunch not long ago and admired the new desk greatly. After a thorough inspection, he had the temperament to call me and give me a twenty minute lecture on the quality of workmanship. Another friend, this time to include his wife, went on and on about this extraordinary piece. I am very pleased with it and will use it for many years to come."

Knox County, Maine

The beauty speaks for itself

"The progression in our house from a king-size mahogany post bed, to a walnut desk, to a three-section mahogany dining room table, to its companion breakfront and, finally, to the matching sideboard bears strong testimony to my high regard for Bill's workmanship, care and skill. Not to mention, his soft-spoken salesmanship! Bill worked with us thoughtfully and patiently. The pride he takes in his craft is never more evident than when he takes you through his studio, painstakingly charting the evolution of his pieces from design drawings to his extraordinary woodworking, from the careful selection of veneers to the final application of finishes. The beauty of the pieces speaks for itself."

John C. Belknap…Pound Ridge, New York
Regency, George III in good hands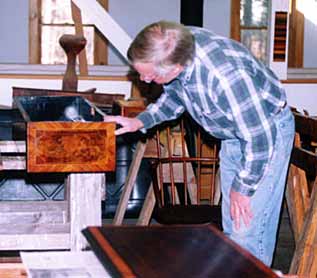 "When my wife and I arrived from England to reset our roots in the New World, we found ourselves unpacking two sixty-foot containers chocked with fine Regency and George III period furniture. As we set up house on the coast of Maine, we quickly realised that change of climate would wreek havoc on the ancient veneers and aged mahogany and walnut pieces that formed the basis of our collection. And so we set out upon the search that ultimately led us Bill.
"Not taking things like this lightly, we inquired amongst antique dealers and collectors to find the best restorer of fine furniture in the mid-coast area. While a few names came up, only one came up consistently and with unqualified endorsement…William Evans. After three years of collaboration and a dozen projects, it is my pleasure to extend that unqualified endorsement.
"When it comes to fine furniture, be it antique or newly crafted, you couldn't be in better hands than Bill's. From the simple tightening of Regency library chairs to complicated veneer and brasswork replacement on an antique inlaid marcassar Asprey jewelry box. From the turning of replacement knobs on an ancient English spice cabinet, to the scratch crafting of a stunning contemporary exotic wood pedestal to support a much-loved marble bust, Bill always exceeded our most ambitious expectations. A finer craftsman you will not find in Maine…or elsewhere for that matter."
Fernan & Nikki Montero…Midcoast, Maine
He totally understood
"We had a need for a dining room table of nonstandard dimensions since the dining room was added on to the house and its size was restricted by Maine coastline set-back requirements. We shopped in the San Francisco Bay area near where we live and various places in Maine as well, all without any success.
"Furthermore, we had styles, designs and finishes in mind. Nowhere could anything be found close to what we needed and wanted.
"We visited Bill when we saw his Route 1 roadside sign. Later, we presented to Bill our desired dimensions, one of the chairs from the set we already had, two photographs from design magazines and our thoughts. To our surprise, Bill totally understood our needs and wishes and concluded that there would be no problem whatsoever.
"Shortly before Labor Day, Bill visited our home on Rackliff Island with drawings and sketches and a sample table leg. Everything was totally perfect, and we agreed to proceed. The table was built, stained and finished, and delivered the Sunday before Thanksgiving.
"In a word, the dining room table is fabulous! It fits perfectly in the dining room, with ample spacing for the chairs. The design is truly beautiful. The finish and appearance are gorgeous. The craftsmanship, construction, and workmanship are superb."
Vinnie and Anne Bowlus…Rackliff Island, Maine, and San Franciso, California
Just like the real McCoy

"Having completed a replica of an early 19th-century connected farmhouse and barn on the coast of Maine, I needed quite a few replicas of antiques to fill it. Enter William Evans. The exquisite tables and chairs of that era that he made by hand over a two-year period are, to me, indistinguishable from the real McCoy. Not only did I acquire beautiful new works of art to fill my farmhouse, but I made a warm friendship with a true craftsman as well!"

Pierce B. Browne…Cushing, Maine, and Concord, Massachusetts
A perfectly restored Seymour

"It was important for us to be most careful in choosing a restorer. In particular, we were concerned with one family heirloom, a sideboard in poor condition but with possibly an attribution to John & Thomas Seymour. We needed someone capable of restoring the piece while maintaining historical integrity, respecting and understanding construction details, and discerning attribution clues. The sideboard was restored over a period of six months, and, when brought to the attention of art historians and experts in the field of 18th-century American furniture, was indeed determined to be from the Seymours and dated 1785-1800. Since then, we have entrusted William Evans Furniture with several more pieces, including a Maine circa 1845 writing desk that had been ravaged by exposure to the sun. It is now in perfectly restored condition. Professionals in the art world have commented on the quality of the restoration and finish, and Bill's respect for the historical integrity of the pieces. His understanding of woods, construction and methodology is thorough and is the most important part of a proper restoration of an antique piece of furniture."

A Maine collector
An old-time professional…5 stars!
"I was first introduced to the work of Bill Evans several years ago by a longtime friend of mine who had reproductions that Bill had done for him over the years. Several years ago, I saw a reproduction of an English reading stand, circa 1760-1770, in the house of some friends in New Hampshire. I asked them for a set of drawings of the reading stand so I could have a copy made for my daughter's 9th birthday. Then another friend who had several pieces that Bill Evans had done for him suggested that I send the plans to Bill. I did, and now my daughter has a very beautiful piece of furniture that will last her family for generations to come. Bill is an old-time professional in every sense: care, workmanship, details, etc., etc. I highly recommend him. Five stars!"
George V. Buehler…Brookline, Massachusetts
Simply superb work
"We can recommend the services of Bill Evans without reservation. In the design and execution of new furniture and in the restoration of old pieces, his work is simply superb. Additionally, it is a pleasure to know and to work with Bill, who is always eager to share his love and knowledge of woodworking."
Kim Hetherington & Henry Goldberg…Bremen, Maine, and Washington, D.C.
A gifted craftsman
"Bill Evans is a gifted craftsman who couples a superb sense of design with meticulous workmanship."
Alan Goldstein…Winter Harbor, Maine
Nearly invisible repair
"Bill is a true artist and brilliant craftsman. I travel 185 miles to bring my furniture to him (it is worth every mile), because I know he can fix anything, from a small delicate wood lamp with a crack, to a large chest of drawers coming apart at the seams. He can make repairs so the pieces are as strong as before the break, and his finish work makes the repair nearly invisible. He is very welcoming in the shop and always gives me a tour of his current projects, talking about the wood he is using and answering every question I have. Bill's pricing is very fair, and he sticks to his estimates. I recommend him without reservation."
Liz Moriarty…Cambridge, Massachusetts
A lot of fun
"I was very pleased with the work that Bill did for me. I appreciate the interest he took in the projects, all of which were so small and more than a little odd. He has an ability to put himself in the client's position and share his enthusiasm for the project at hand. It was a lot of fun working with him."
Richard Kenworthy…Boston Massachusetts
Bill stands out

Kathleen and I have commissioned Bill to design and build four very different pieces of furniture. They have ranged from a formal 8-foot dining room table to a contemporary oval side table. The other two pieces include a faux-Chippendale side table and a four poster bed with matching side tables. They are unique and wonderfully executed. Collaboration with Bill is an absolute pleasure. His competence as a furniture maker and artisan is made more enjoyable by his humble and yet determined approach to creating the best in new works of art. From selecting antique English burled brown oak for the dining room table to recommending the brilliant flame maple for the side table, he brings to the collaboration not only a flare for unique detail but also a sensitivity to a harmonious use of extraordinary elements. Bill stands out in a class and at a level of achievement rarely experienced
in fine furniture making.

Kathleen and Rob Flory…Walpole, Maine
Only an expert could tell
"It's been wonderful working with Bill. I always enjoy his visits when he picks up or brings back furniture, and I've learned quite a bit, listening to what he's had to say about the various pieces and what they needed to have done to them. I think the piece that was the most seriously damaged was the dining room chest with cupboard on top. What's wonderful is that only an expert could tell where it was damaged and what Bill did to repair it. Certainly, I've almost forgotten and never think about it! He does very careful, professional work, but only what is really needed, leaving signs of age and history to tell their story. I'd recommend Bill wholeheartedly to anyone who has pieces they love and use that need restoration or repair. I don't know what I'd have done if he hadn't taken on my damaged pieces!"
Ann Rogers…Portland, Maine
Finding the right person
"For years, Jim and I postponed having our furniture repaired, wanting it done right. Several pieces were especially important to us. When a friend introduced us to Bill, and we saw the quality of his work, we know that we had found the right person. His skill, craftmanship and care are outstanding. The results speak for themselves."
Penny Moodey…Damariscotta, Maine
A profoundly beautiful work of art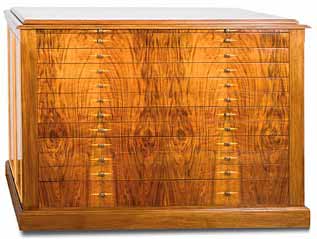 "I was drawn to William Evans' furniture by a display of his work in Northeast Fine Art & Design in Northeast Harbor, Maine. The pieces were not only pleasing to my eye, but extraordinarily beautiful to touch. I purchased a magnificent Evans chart chest this past summer and placed it in my home to display photographs and boat drawings. I knew I had made a wonderful selection when several of my friends chided me for purchasing it before they bought it for themselves. Every time I walk by it, I cannot resist touching its surface and admiring the exquisite craftsmanship. It is a profoundly beautiful work of art, and I feel privileged to own it."
Michael E. Rindler…South West Harbor, Maine
Bringing Egyptian detailing back into the light
"In the summer of 2003, I first made the acquaintance of an 8-foot, turn-of-the-century secretary in a Maine antique gallery. It was, to my eyes, a rare combination of classic American design with Egytian detailing which became so fascinating in the heady years of early archaeology. But I hung back from purchasing it, not at all certain about what lay beneath the melted and crazed finish. It could be some cheap, theatrical veneer or the work of a serious furniture craftsman. But four months later, when the piece was still there, I gave in to instinct. In part, that decision came about because the gallery owner recommended a restorer who specialized in the period and who had done phenomenal work on similar pieces. I called that restorer—many times—with no result. Perhaps the piece was too big, too daunting, or too uncertain. The exasperated gallery owner called saying he could no longer hold the piece for the restorer, it had to be gone by the end of the week.
"Fortunately, I had been to visit Bill Evans' studio several months earlier. I had known of his work and wanted to see it first hand. Even though it was an impromptu visit, Bill took the time to show us through the studio, stopping to talk about the several works in progress. The work was precise, respectful, loving. The pleasure Bill took in bringing out pieces was like another presence in the studio.
"So, given the gallery owner's ultimatum, I picked up the phone and called Bill at home that very evening. He promised to drive to see the piece the following day and to call with an opinion and a rough estimate. Given the long delays and disappointments of my first round, I was totally amazed, when, like clockwork, Bill called, exactly as promised. When he provided his estimate, I asked him whether the piece was worth it—as I knew I was working off of total intuition. He was cautious: it was mahogany, it was turn of the century, it had nice lines, but he could not tell what lay under the murky and clumped finish. The lack of pressure, combined with the certainty, was assuring; whatever was there would be respectfully and carefully brought back to life. Together, we would have to wait to see what lay hidden.
"Two months later, Bill called to tell me the piece was nearing completion. He was ecstatic, for beneath the dark and gummy finish was a magnificent work of mahogany veneer in which the pattern of the grain created a play of light and dark across the surface of the entire piece. Like its own Egytian sources, the piece had come through excavation and into the light."
Dennie Wolf…Cambridge, Massachusetts, and Rockport, Maine
A most handsome secretary
"On a trip from the Chicago area to visit friends in Waldoboro, we saw bookcases in their home designed and built by Bill Evans. To our delight, we were told he was their next door neighbor. A visit to his workshop and showroom allowed us to see the entire process from the design to the precision work and care that he incorporates in every step of the building process to complete each piece of furniture. We were able to select wood types from several options Bill recommended, and other decisions were handled by telephone. The result was a most handsome secretary which combines four different woods, the beauty of the rich colors and interesting grains combining to make it a unique piece. When friends come to visit they are drawn to it, and always want information about the origins of the secretary and how it came into our home. Bill Evans is an artist and a master craftsman."
Susan & Carl Hartmann…Chicago, Illinois